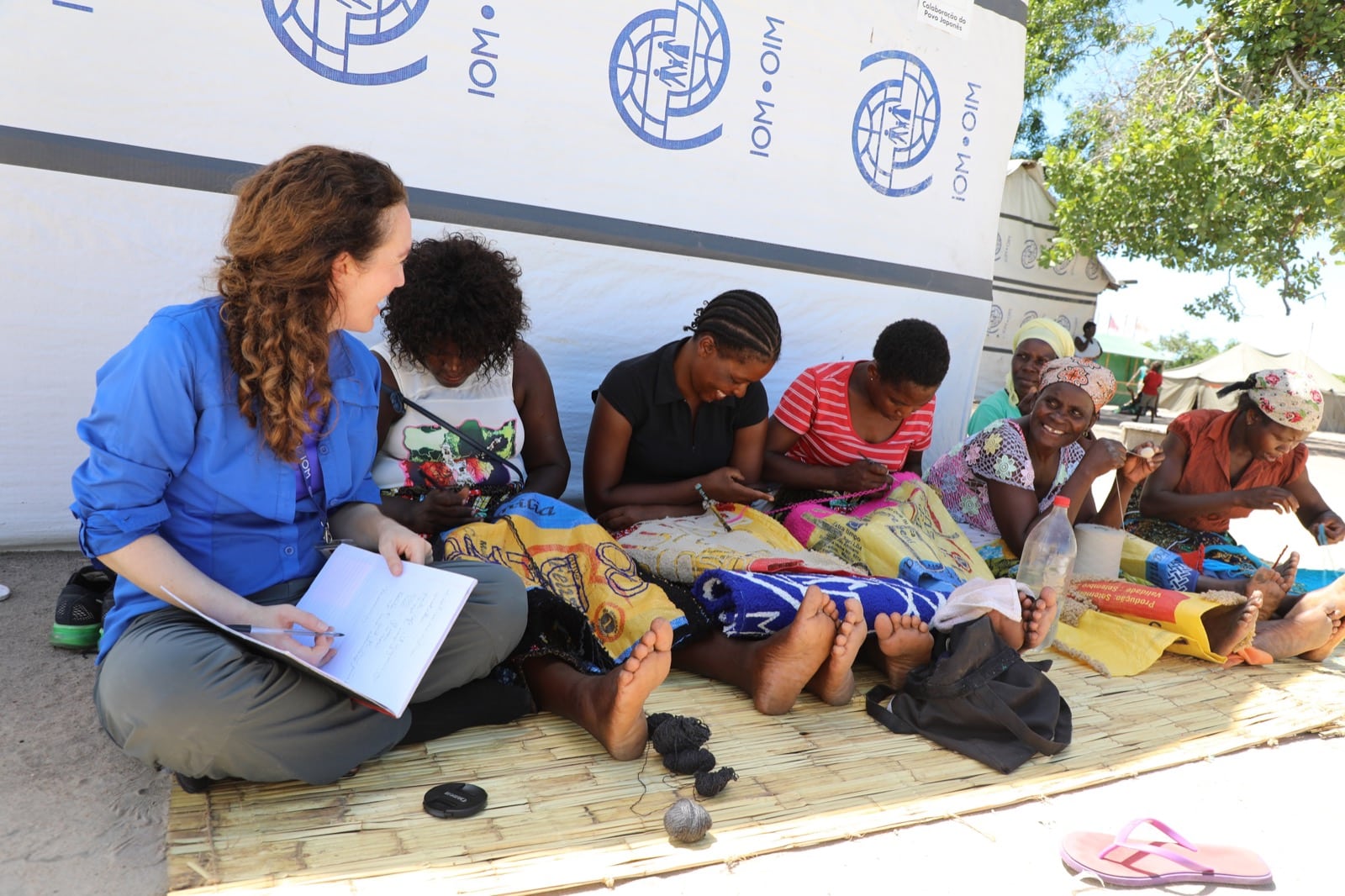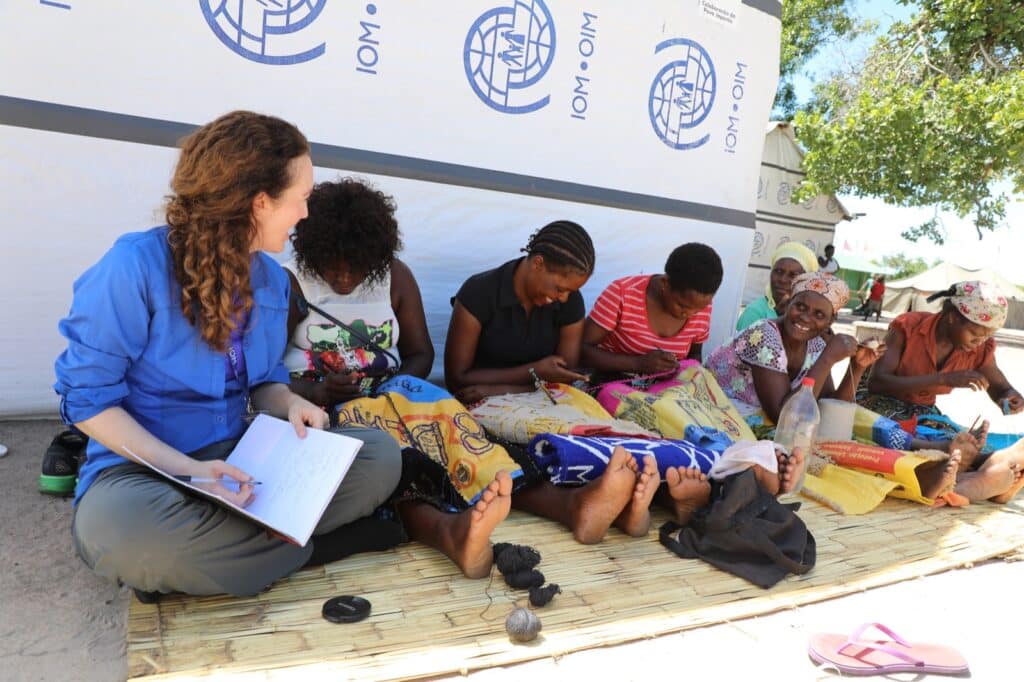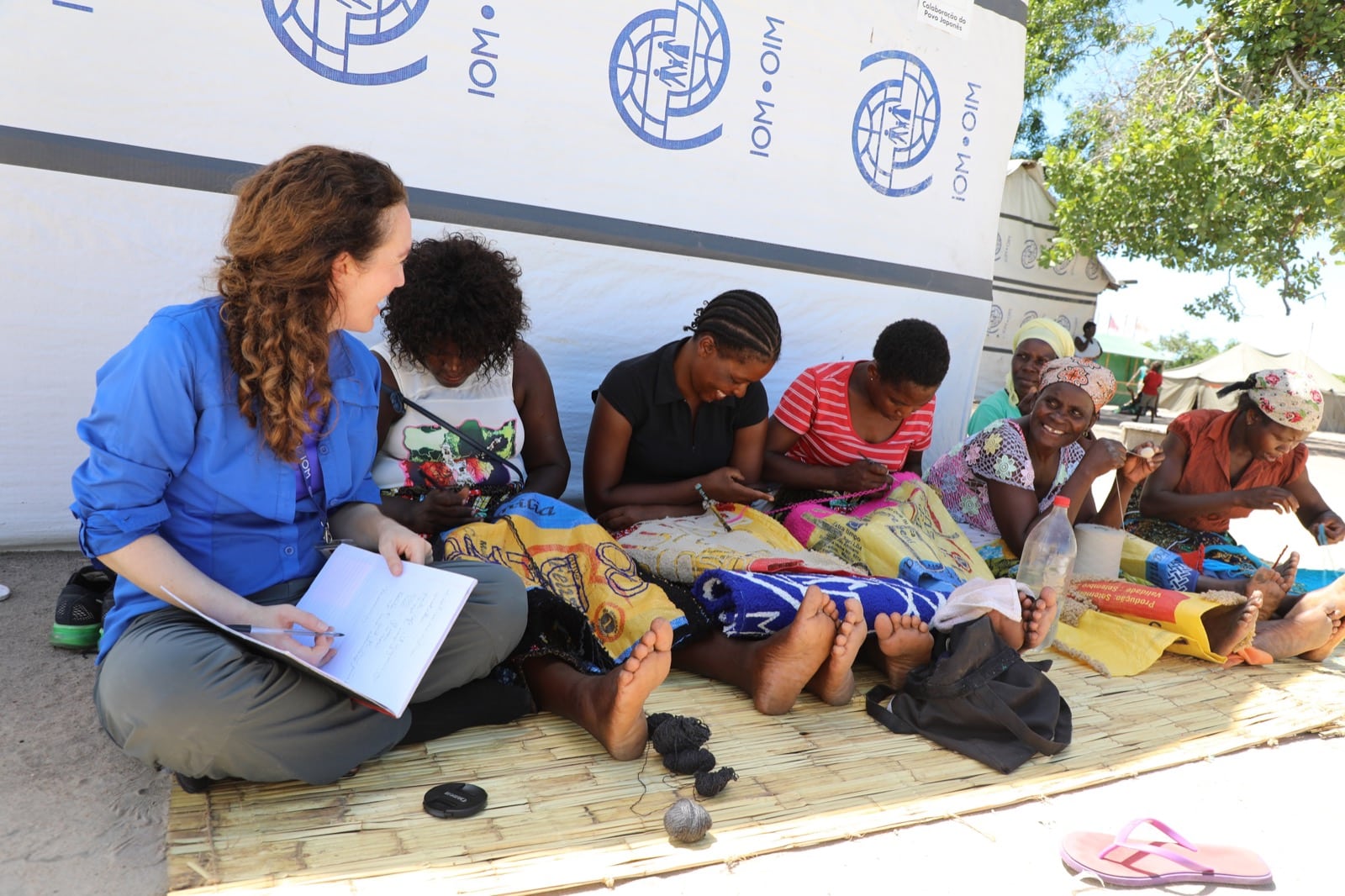 Sandra Black interviews livelihood project participants at displacement site in Central Mozambique.
Six Steps to Commemorate World Humanitarian Day
Anniversaries are a time for both celebration and reflection. World Humanitarian Day 2023 marks 20 years since the attack on UN Headquarters in Baghdad, Iraq.  This 19 August, USA for IOM honors those who we work with to meet humanitarian needs globally, #NoMatterWhat. 
Echos of the Baghdad bombing persisted when I began working at IOM Iraq in 2014.  As a communications officer, my role was to bring attention and expand resources to crisis situations.  I share this story, on this day, not only to stand with my fallen colleagues, but also to remind everyone how they can stand with humanitarian workers worldwide. 
Recognize the challenges 
What does it mean to work in conflict situations, natural disasters and post-conflict zones? I remember from my time in Iraq and Central African Republic. 
– The bullet holes in the car door of the mission I had originally planned to join;

 

– A week spent indoors to avoid violent protests, and calling home to say, "Yes Mom, everything's fine.";

 
– Being called on a Wednesday; Could I depart for another continent's disaster zone by Friday? Yes, of course.

 

 
The humanitarian field experience demands working at full-speed on life-saving tasks, often with intermittent internet and electricity. In most cases as humanitarian workers we have adequate shelter, food, employment, and an organization looking out for us. However, we are faced with daily reminders that those who we support may have lost these entitlements. This work is a labor of love and an exercise in actionable compassion. 
Recognize the needs. 

 
When humanitarian organizations say, 'resources are stretched', it's true. We witness those needs in the faces of people in need, who must stand aside humanitarian distribution lines that can only provide for those in greatest need. And even for those who do receive assistance, a displaced grandmother and grandchild whom I met, the resources provided may not even be sufficient for them to set up an adequate shelter. During crisis a full range of assistance is required. 
I recall one occasion, at a food distribution for displaced families cornered in a conflict zone, supplies were inadequate. A displaced woman looked at me and said, "If this is the best you can do, we thank you. Is this the best you can do?" Humanitarian resources can rarely provide for all those in need. These situations are painful and uncomfortable for humanitarian workers.  
Uphold compassion. 

 
In conflict-affected areas, stories shared by displaced families followed a pattern: hearing explosions, fleeing home, surviving in displacement. As displacement figures climb into the millions, the challenge is to not let our compassion fatigue. How do we uphold compassion? By recognizing individuals and their humanity.  
I remember the grateful smiles of displaced individuals who were provided with transportation to reunite with family. And the women in Mozambique, rescued from floods by boat and helicopter, who sang in the bus on the way back home; their joy was contagious.  
Encourage and invest in staff. 

 
Well-run humanitarian efforts require investment. Staff training and adequate supplies and preparation are essential. 
I remember the Chadian staff member with whom I fled an explosion that targeted the displaced people we were assisting. He was faster than me, but he maintained my pace and held my hand as we ran. Our efforts only succeed when staff are given the support they need, just as he gave me support that day. 
Remember colleagues. 

 
I salute my colleagues who are working in crisis zones, including Ukraine, Sudan, and Democratic Republic of the Congo. "I simply couldn't remain passive… I wanted to join a humanitarian mission and contribute my best to aid Ukraine," said Mykyta, an IOM Ukraine non-food item team member. 
Humanitarian workers are there to serve, despite and because of the risks that are putting other human beings in danger. 
This World Humanitarian Day we keenly remember those whose lives were lost in humanitarian service. We honor their memory with determination to provide enhanced support in times of crisis. 
Support the cause.

 
I remember the pride of displaced women in Iraq who used donated equipment to set up hair salons to support their families. In visiting refugee camps and displacement sites I consistently encountered nice, normal people who just happened to have been forced to flee their homes. People who aim to improve their situation, and who can rebuild their lives and thrive when provided with adequate assistance.  
The theme of World Humanitarian Day 2023 is: 'No Matter What'. No matter the danger, the hardship, the hostilities… what matters is that we make a difference.  
Following several years working in crisis contexts, I am now supporting USA for IOM, continuing to bring attention and resources to IOM's humanitarian work. I am proud of the spirit of philanthropy in my home country, the United States, and the support offered to those in crisis. Please join humanitarians in standing shoulder to shoulder with the communities we serve #NoMatterWhat. 
About the author 
Sandra Black has worked for UN Agencies and humanitarian organizations in Iraq, Timor-Leste, Central African Republic, Mozambique, Senegal and Brazil. She is now the Lead Communications Officer with USA for IOM, the non-profit partner in the US of the International Organization for Migration (IOM).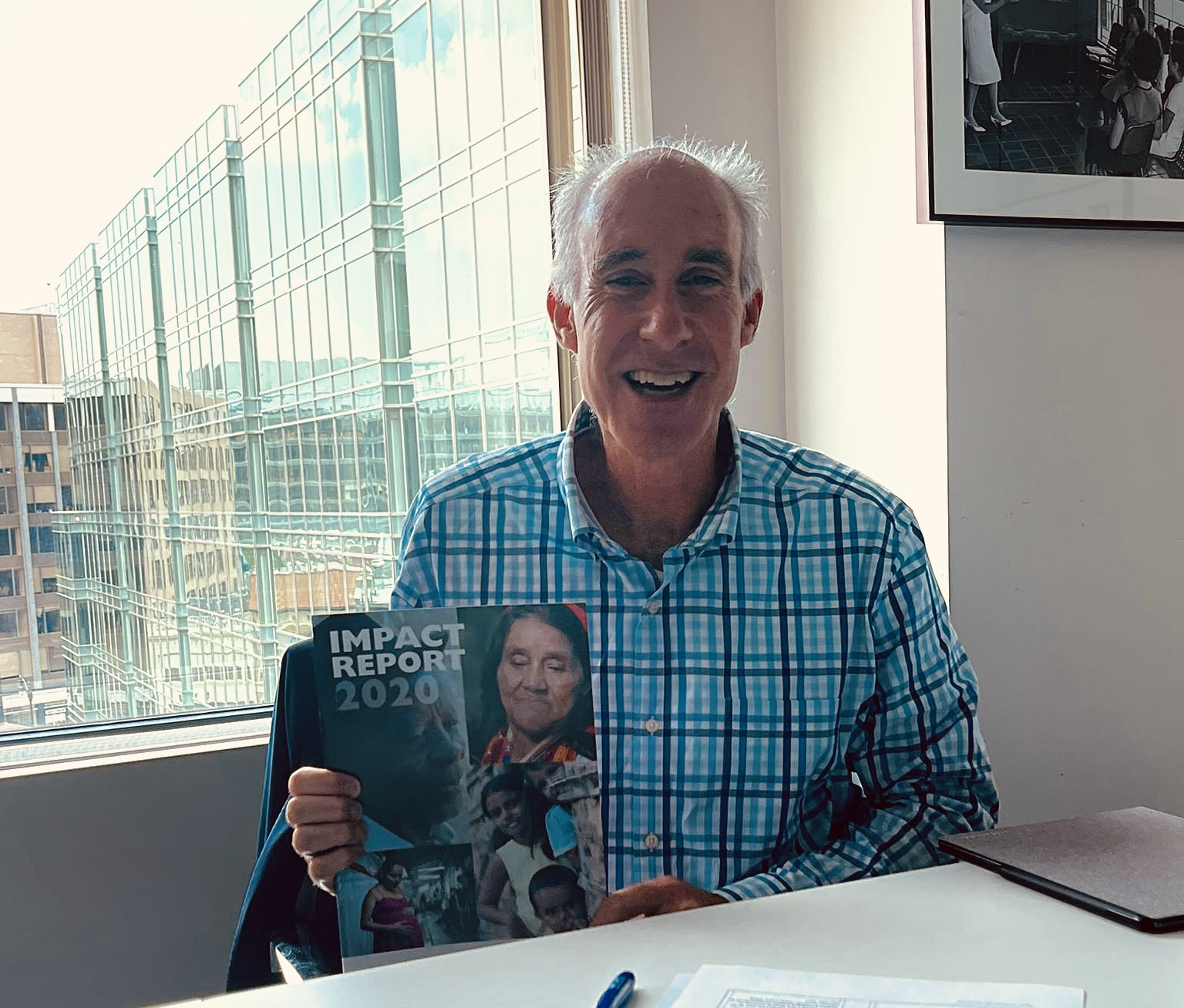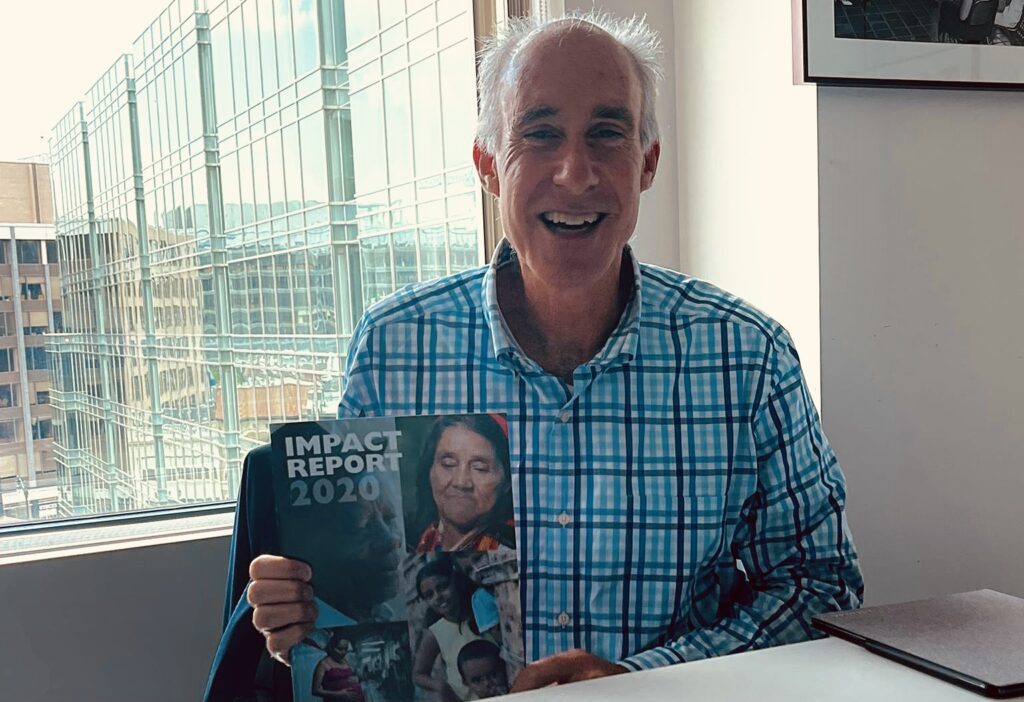 Photo Credit: Maria Moreno
USA for IOM recognizes the Shapiro Foundation for World Humanitarian Day
Last Month, Ed Shapiro, safely, joined us for our first in-person partner meeting since the outbreak of COVID-19. We were able to share a hard copy of our 2020 Impact Report with him as well as provide an update on the meaningful work he and his network support with their contributions.
The Shapiro Foundation, founded by Ed and his family after retiring from his 27-year career in investment management, almost exclusively concentrates on refugees and immigration. Ed's personal experiences, passion, and ambition led him to take a deep dive in understanding the history, causes, impacts of, and responses to migration with the desire to identify and support "win-win" opportunities for bottom-up, community-sponsored support of refugees and migrants.
His foundation is an example of one of the four main partner categories USA for IOM engages within the US private sector—individuals, diaspora organizations, corporations, and foundations. USA for IOM considers the Shapiro Foundation to be a remarkable and valuable partnership because the Shapiros see themselves as humans helping humans in an interconnected world with shared values.
The Shapiro Foundation has partnered with USA for IOM and IOM by assisting in the reunification of Central American minors from El Salvador, Honduras, and Guatemala with their families in the United States. The Shapiro Foundation's partnership stepped in at a time of great need for these families.
2020, however, brought us the COVID-19 pandemic and, over a year later with uncertainty still brewing, the world is undoubtably changed forever. The challenges, losses, and crises shared globally has led to a world with a greater of understanding of just how interconnected we really are— few can say they are personally unimpacted.
For the families awaiting the day when they would be reunited, COVID-19 brought border closures, safety measures, and restrictions in response to COVID-19. These measures necessary for containing the spread of the novel virus also posed unexpected challenges and delays for these families' reunification with their loved one. In times like these, the value of partners with passion, understanding, and creativity shines even brighter. The Shapiro Foundation adapted the original plan to accommodate the challenges specific to COVID-19.
Our partners, like Ed Shapiro, are one of the most worthwhile and meaningful examples of how people help people. In recognition of World Humanitarian Day, we are honored to feature Ed Shapiro, his family, and the Shapiro Foundation's passion, ambition, and meaningful efforts for the most vulnerable refugees and migrants.