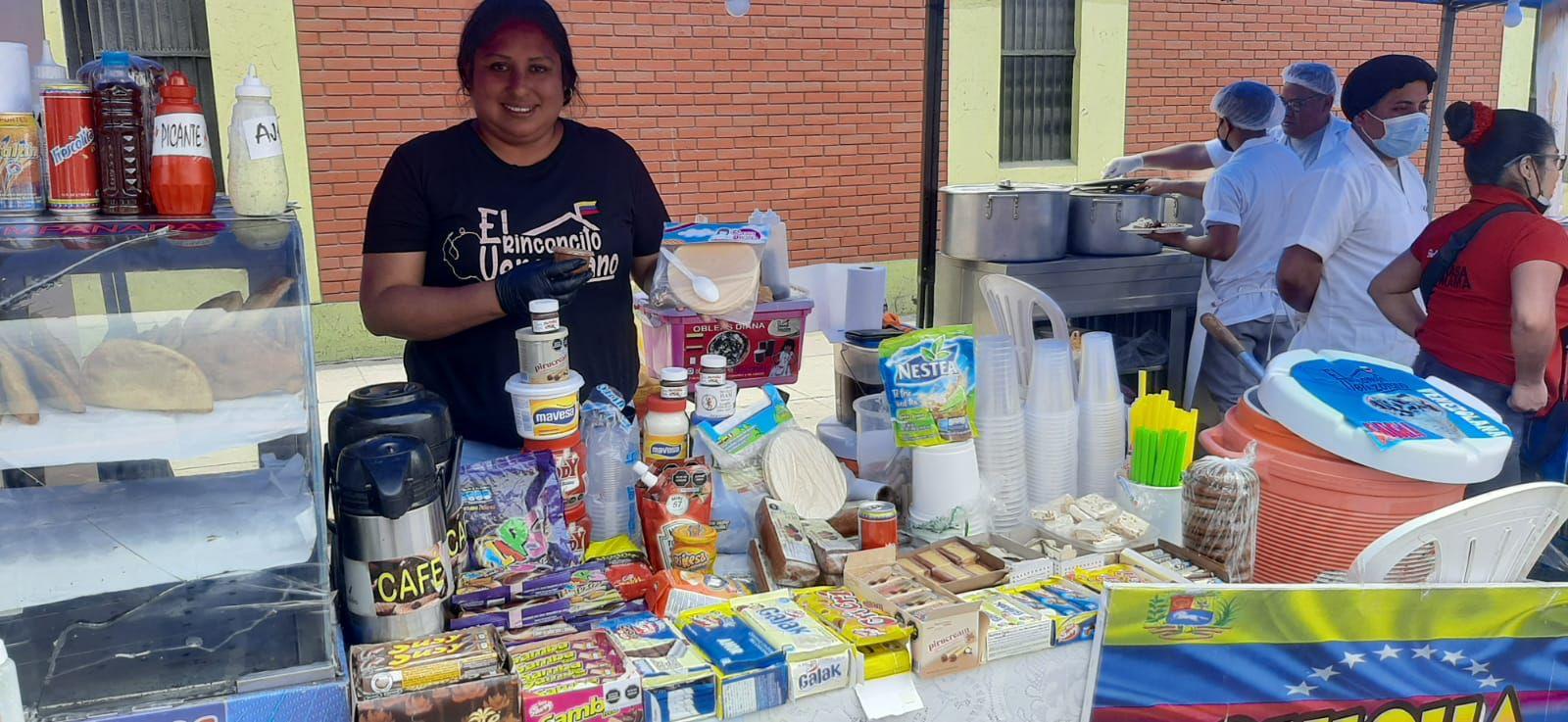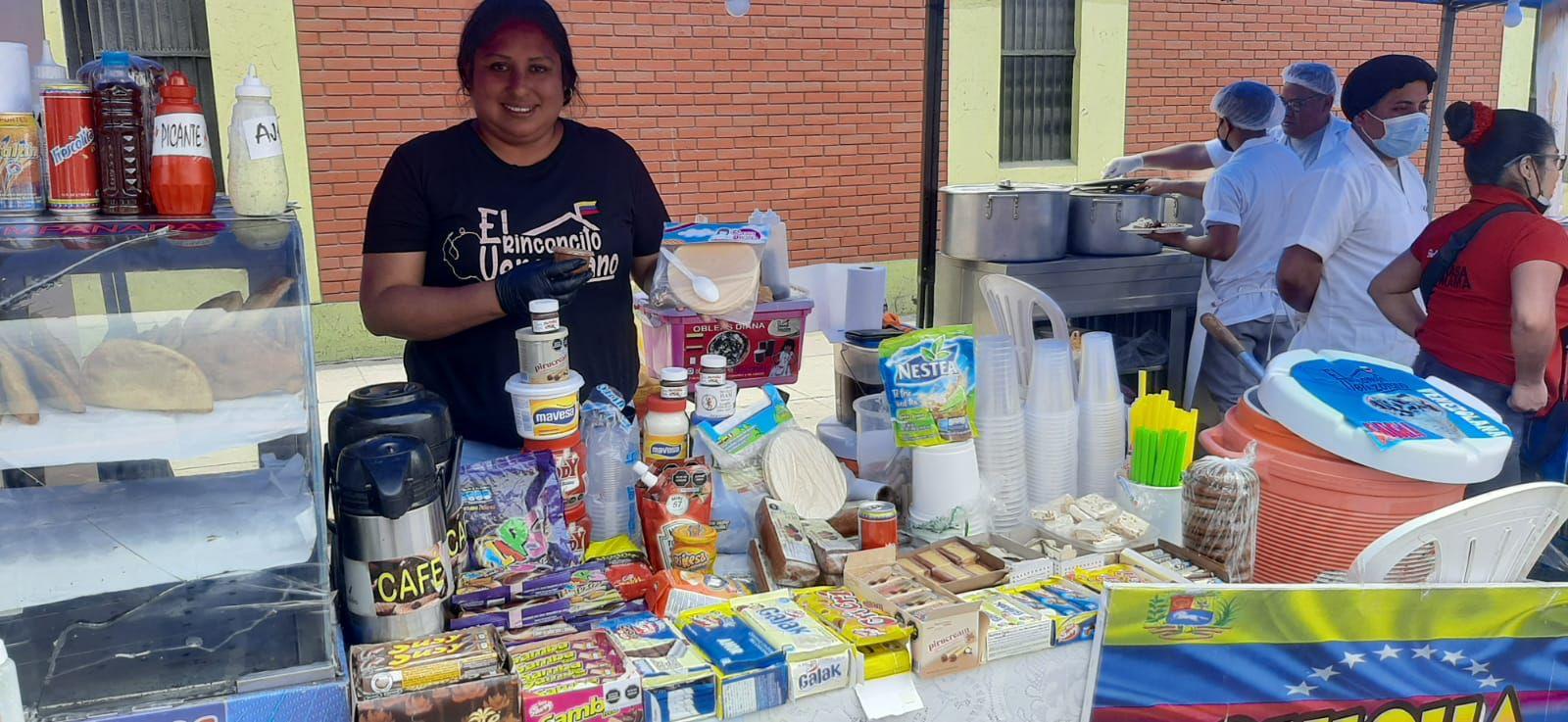 Dayana: "Sometimes, life's ironic."
Dayana Rojas, was born in Venezuela, and currently lives in Peru. Dayana tells us: "My ancestors are Peruvian, so we are two generations of migrants between the same countries. This makes everyone in my family feel that we have a double culture because we identify with both nationalities." According to Dayana, her entrepreneurship has a long history that began when her parents made the decision to return to their country from Venezuela after 43 years. The yearning to return home led this chemical engineer to leave an excellent job in one of the main petrochemical companies to migrate to Peru, although it took a full year to complete the journey. In 2018, when the family was reunited in Peru, Dayana decided to start selling the same confections her father sold back home, Venezuelan chicha. She bought the necessary tools and equipment to make this very familiar treat which is a drink containing rice, milk, sugar and a vanilla base. It requires a two-day production process to achieve the perfect chicha. 
"Life's ironic," she tells us with a smile, "my father, a Peruvian who learned to prepare the rich and delicious Venezuelan drink, raised his three children in Venezuela thanks to that product, and years later, I do it in Peru". But for this engineer-turned-entrepreneur, her passion goes beyond chichas. After selling Venezuelan delicacies on the beaches and in schools, in December 2018 she decided that it was time to gather all her products into a single brand focused on Venezuelan gastronomic culture, so she created a name that encompasses everything. Thus, Rinconcito Venezolano was born. The restaurant not only offers empanadas but also small wafers and candies from her country of origin, even sweet sandwiches, desserts and souvenirs. For Dayana, the mentoring for personal and professional development provided by IOM was much more than just support. 
It came just at the time when she needed them most. "There were days," she tells us, "When I would feel so low that I would sit down and procrastinate. I convinced myself to believe that later I would do my duties, but nothing, I had nowhere to get strength. It was as if inside I had never had passion, desire for change, or desire to grow professionally, in short: as if I had never had resources. And worst of all, I felt terribly bad seeing how time was running out for me. After the mentoring, I was able to realize that I was afraid of failing, and it was not something trivial, because the truth is that one of my biggest flaws is perfectionism. Sometimes I think that I do not carry out all my ideas, I am so afraid that it will not turn out perfect that I don't do it, then I enter a kind of vicious circle, and how does that end? Running out of strength! I am grateful to IOM for the opportunity of joining the mentoring sessions, I keep moving forward, and I manage to do it as I used to, achieving what I set out to do, taking advantage of two of my main strengths: enthusiasm and passion."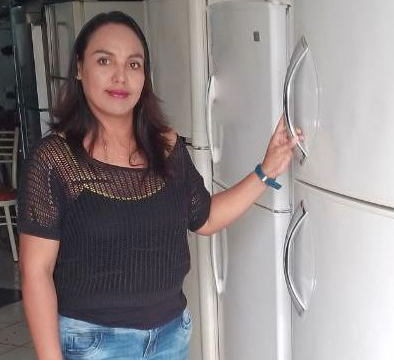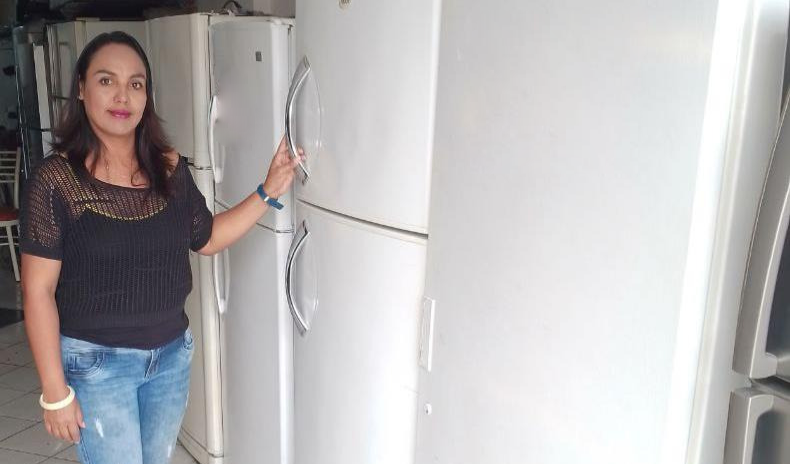 Yexira: a woman entrepreneur working hard to live a better life
For Yexira Yalili Salazar, the four years she has been in business with her partner have been a quite a challenge. The company Multiservicios y Repuestos Construfrío 36, which today has its premises in Lima began "with just a briefcase of tools, a lot of will, perseverance and desire to excel". In terms of material things, they didn't have much, except "an alliance between a Peruvian and a Venezuelan, where each one, little by little, contributed new ideas and material and economic resources." 
For Yexira, the only thing that kept them going was faith and the hope that things would improve along the way, a certainty that began to take shape in their country of origin when the economic situation in Venezuela became very difficult. The situation prompted her to move to Peru with her family in 2018 to start a new chapter. "We sold everything we had. Somehow, deep inside me I knew that there was no going back, that it would be a journey that was as long as it was definitive. Fortunately, we were well received" she says, "because I couldn't work, my three-year-old son was sick with asthma for six months and with a complicated health condition…" 
It was not until a year later, through USA for IOM's training programs for entrepreneurs, and after having acquired the first seed capital, that the business began to improve and to incorporate new services. "In 2020 and 2021 we had other trainings led by IOM and more seed capital," she tells us. "We were so happy with this new training, we were able to incorporate new business expansion tools, such as identifying potential customers, assessing the competition, suppliers, we learned to do market research, to manage social networks… To say that we are deeply grateful to the whole IOM team isn't enough. Then came the mentoring sessions, which gave us tools to strengthen ourselves, where we learned personal development strategies, social and professional growth tools to contribute the best of ourselves to the host community. But they were also important as a woman and a migrant, since I have experienced inequality in my own entrepreneurship and work environment. This was the biggest and most enriching challenge I have had in my life because I have learned to improve my self-esteem, to make different decisions and most importantly: to continue looking for new opportunities that improve my well-being. One of the most valuable things I learned during the mentoring is to shape my life with the resources that I have at my disposal, in the place where I am, and with the opportunities that I can get, with the sole goal of being happy and having a better quality of life." 
By: Nora Rodriguez 
Essayist and CEO of Architects of Happiness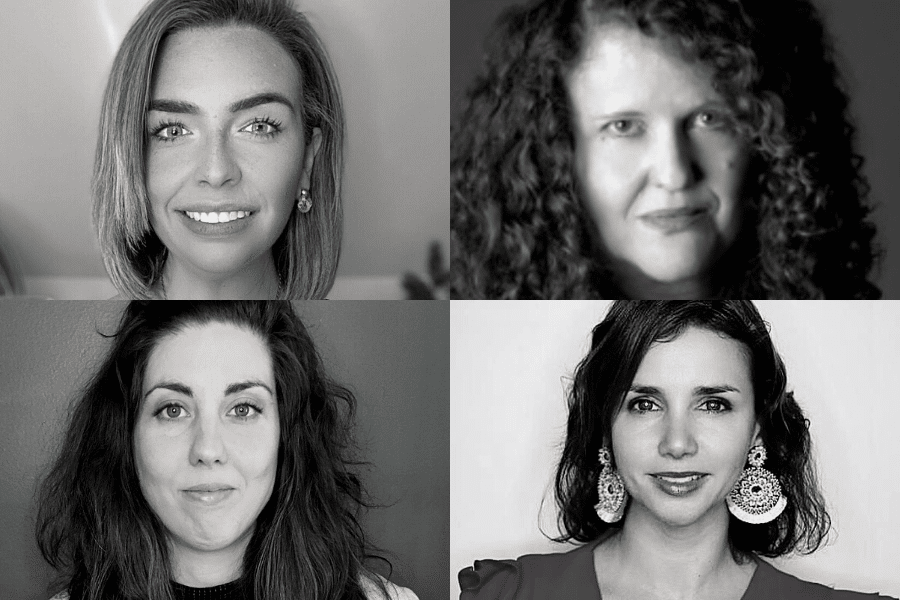 Female migrant leaders advocate for female migrants
The face of migration is changing. Over the last century, millions of people were forced to leave their countries of origin, with women following male relatives along the journey. Today, women outnumber men along most migratory routes, with many traveling alone. This makes them more vulnerable to the predatory forces along the
migration routes. This new scenario requires not only a profound reconstruction of the host societies, but also new perspectives will help provide more meaningful assistance and promote action.
To commemorate the International Migrants Day on December 18, USA for IOM held the first "Meeting of Migrant Women Leaders", during which our CEO, María Moreno, spoke with global female leaders who left their country of origin. The event, moderated by the essayist and CEO of Architects of Happiness Nora Rodríguez, included the participation of Dr. Nadia Szeinbaum, Innovation Scientist at Beyond Meat, and former NASA fellow, and Liliana Mor, Director of Strategic Alliances and Development of Pro Mujer.
Hosting conversations with female leaders who themselves migrated is key to understanding the femiznation of migration. Dr. Nadia Szeinbaum discussed ways to better integrate migrant women into the host countries. "What I know about my culture," she mentioned, "has a certain flavor, a very particular color that is Hispanic, Latin American, focused a lot on connecting with other people, on my music and my technical ability, so when I felt exposed to many cultures, I started learning from them. This allowed me to understand their codes, pay attention to details, and also learn to work from that place."
For María Liliana Mor, Director of Strategic Alliances and Development of Pro Mujer, it is urgent to launch collaborative work between the countries to incorporate means and resources that make migratory routes safer places, but also to provide human accompaniment to make creation of new roots a common goal, for example, through supporting entrepreneurship for refugee and migrant women.
Both María Liliana and Nadia recognize the importance of a global talent characterized to a considerable extent by the impact that migrating had on their lives, characterized by the social sense, the commitment to personal values to advance in decisionmaking and a great adaptability and ability to connect with truly diverse people, which is a common denominator in most people who migrate.
The essayist and CEO of Architects of Happiness Nora Rodríguez, who moderated the event, and who works as a social mentor in the USA for IOM's Entrepreneurship in Movement program, emphasized the importance of finding these skills and talents in each of the stories of women who migrate because they are the starting lines to build a new life in another place.
In closing, María Moreno urged both leaders, from their deep understanding of the fundamental values of the global community, from their own sensitivity to human and social needs, to share a message with migrant women directly. Both women agree that preserving cultural ties while working to build a new life is critical to success and mental health. "Your family is the world," says Szeinbaum. "And I say this from personal experience," adds the Director of Alliances for Pro-Mujer, "there are moments when you feel like you are someone else and you yearn for certain things. And a family doesn't necessarily have to be a biological one." Migration isn't about severing connections, but rather about building new ones.